So taking up where we left off...
Martha Corey has been accused of being a witch and her arrest warrant was issued but it fell on Saturday and couldn't be administered until Monday. This allowed Martha to attend church one more time before imprisonment. And in fact, Martha attended church twice!

But first, Deodat Lawson, the former minister of Salem Village, had come from Boston on Saturday afternoon to observe the latest happenings in Salem Village. News of the witchcraft accusations in his former parish was starting to spread and he wanted to investigate a report that his former dead wife and daughter (gone for two years) had been victims of sorcery.
Lawson immediately began to witness the girls odd behavior upon checking into the inn and witnessing Mary Walcott shrieking that a witch was biting her. Upon examination of her wrists, he was cautious in his record-taking and used the word "apparently" quite often. He later in the evening, went to the parsonage to consult with Parris and was unable to speak with Parris because of the constant outcries of Abigail who was in full possession. She ran through the house screaming, Whish, Whish and then began to push away a Shape which had entered the room. Abigail when asked what she was doing shrilly responded "Don't you see her?" and then began to scream "No, I won't, that is the devil's book!" and began to push the invisable object away. Soon, Abigail ran into the fireplace, threw firebrands through the room and tried to fly up the chimney.
The next morning, Lawson being the visiting minister, came to the pulpit very tired. He had spent many hours of the late evening praying for the people of Salem Village and asking God to save these harmless little innocent children. Abigail arrived at church rosy cheeked after a good nights sleep. As Lawson looked around the room, he realized the Martha Corey had attended the morning service. The girls began their charade during services, taking turns, and shrieking that they were being pinched and stricken. Martha Corey, steadfastedly just sat in her seat and ignored all that was going on around her. The girls continued until they were so disruptive that Lawson stopped the service. Never had this ever occurred with severe punishment, but no one mentioned a word to the girls behavior.

More of the same behavior occurred during the afternoon services. Martha Corey had attended this service as well knowing that she would return to this same spot on Monday to stand before her accusers. The girls began their wailing again and Abigail pointed to the ceiling exclaming that Martha Corey sits on the upper beam. All the girls agreed to this and the parents could see nothing. Finally, one of the parents hushed her girls and told them to sit quietly. Eventually all the girls quieted down and the services continued. Martha Corey sat with a small smile on her face during the entire ordeal.
On Monday, Martha was properly accused of being a witch and her husband, Giles Corey, was called to testify. Giles, a stupid blundering man, said nothing to help her, but rather allowed the questioning to lead him in a direction that pointedly hurt Martha. Giles told the accusers that he found it very difficult to pray with Martha around and that she often was found in a "sort of prayer" late at night that confused him. This didn't not help Martha and in addition, the accusers wondered what else Giles may be concealing...?
"Witch" Yarn is On Sale Today at the Yarn and Fiber Company?

Sale Dates and Times:

October 7, 2008, 12:00 PM EST through October 8, 2008 11:59 AM EST

Yarn Sale - In Stock Quantities Only:


Debbie Bliss Yarns - 15% off MSRP

Nashua Handknits Yarns - 25% off MSRP


Cherry Tree Hill Yarns - 15% off MSRP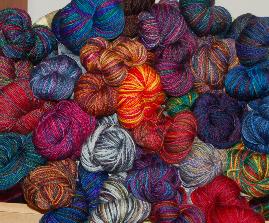 Dream in Color Pattern of the Day
Dream in Color Dream Scarf Pattern is only $2.50 (50% below MSRP)
Pattern requires 3 skeins of Dream In Color Classy
Sample is shown using #160 Blue Lagoon, #110 Cool Fire and #140 Spring Tickle. This scarf is knit in the round so you will need a size US #8- 16" circular needle. This is a very fun project!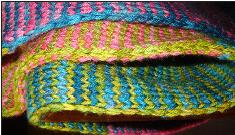 Question: Would you have dressed like a witch for Halloween in 1692?
Yes, most definitely as a witch - 23%
No, I would have dressed like a pilgrim - 19%
No, I would have dressed like futuristic Hans Solo/Princess Leia costumes - 28%
I would have dressed like a giant pumpkin - 14%
I would have dressed my LYS owner as a witch - 33%
33% !!! Well then, your wish is my command... in Salem, dressed as a witch in October, researching for this blog and working on my Wisteria Sweater by Kate Gilbert in Twist Collective using RY Cashmere Tweed... it is fabulous!

And Finally - The Rules of the Sale:All items purchased on sale are final sales. Sale applies to in-stock items only. In the event that an item cannot be found in our physical inventory a substitution or refund will be offered. The sale discount cannot be combined with other discounts. Each weekday, a new sale will be announced through our blog at 12:00 EST. Please try to checkout by 11:59 AM EST to be sure to receive the sale price.