Sale Dates and Times:
October 20, 2008, 12:00 PM EST through October 21, 2008 11:59 AM EST
Sale Applies to In-Stock Yarn Quantities Only
We let Esmeralda pick today's sale yarn using her crystal ball. As Esmeralda gazed into her crystal ball and she told me that unless she was Dreaming in Color, today was the day for DREAM IN COLOR yarns to be on sale!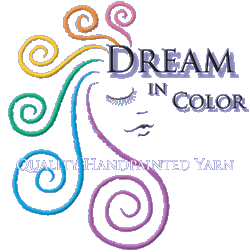 Have fun and don't forget to thank Esmeralda!
Poll results for - Oct 17-20

Question: My unfinished project list is about....
1 to 5 projects long (41%)

5 to 15 projects long (46%)

15 to 50 projects long (10%)

50 + unfinished projects long and growing (1%)
I will have you know that the 1% is non other than Esmeralda.... (no really, it is Esmeralda, it just couldn't be me.... ;)
And Finally - The Rules of the Sale: All items purchased on sale are final sales. Sale applies to in-stock items only. In the event that an item cannot be found in our physical inventory a substitution or refund will be offered. The sale discount cannot be combined with other discounts. Please try to checkout by 11:59 AM EST to be sure to receive the sale price.