Hello Everyone!

As some of you know, (but many don't :), we have Ginger Burns coming to the shop for a Design Your Own Modular Knit Garment class on November 7th and December 5th, from 10-4. The first part of this workshop will teach us Modular Knitting. In this class, we will learn to modular knit making mitered squares and rectangles. During the second part of this class, we will use our newly acquired knowledge and apply the mitered techiniques - with Gingers guidance and support - to custom design a garment. Ginger will focus on the custom design process and fit to create garments that dazzle. This should be a great learning experience for all levels of knitters! Class fee for this class is $80.00 and there is still room to join us! Call us at 603-505-4432 to reserve your seat in this class!

Ginger will also have her garments on display on Friday evening, November 6 for a trunk show... rumor has it some of her garments will be for sale... oh la la! Come and see for your yourself the amazing things you can do with modular knitting!
Are you wondering what modular knitting is? The cover of the new and just in Swing Swagger Drape book by Jane Slicer-Smith displays a modular knit shawl... pretty gorgeous huh!

More amazing news for our Afghan lovers!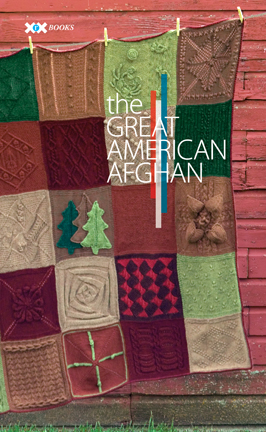 We have just posted the The Great American Afghan series kits in Cascade colors in both 220 and Superwash - including Great American Aran Afghan, Great American Afghan and the Great North American Afghan books.
These project kits are listed in our Project Kits category and also in the Inspiration Ideas category! These afghans work up beautifully and now we have taken all the guesswork out of the color selection and number of skeins needed :)
Or you can change the colors to suit your color needs!

Enjoy and have a wonderful week!
Your Friends at the Yarn and Fiber Company